How To Convert More Web Design Clients In Less Time With Lead Generation
// By Dan White
// October 23rd, 2021
Are you tired of spending hours of time on cold outreach campaigns for your web design business that yield little or no success? Make your outreach more effective with actionable data that helps convert prospects fast. In this article I will provide some cheats to create smarter outreach campaigns with Cloudaro.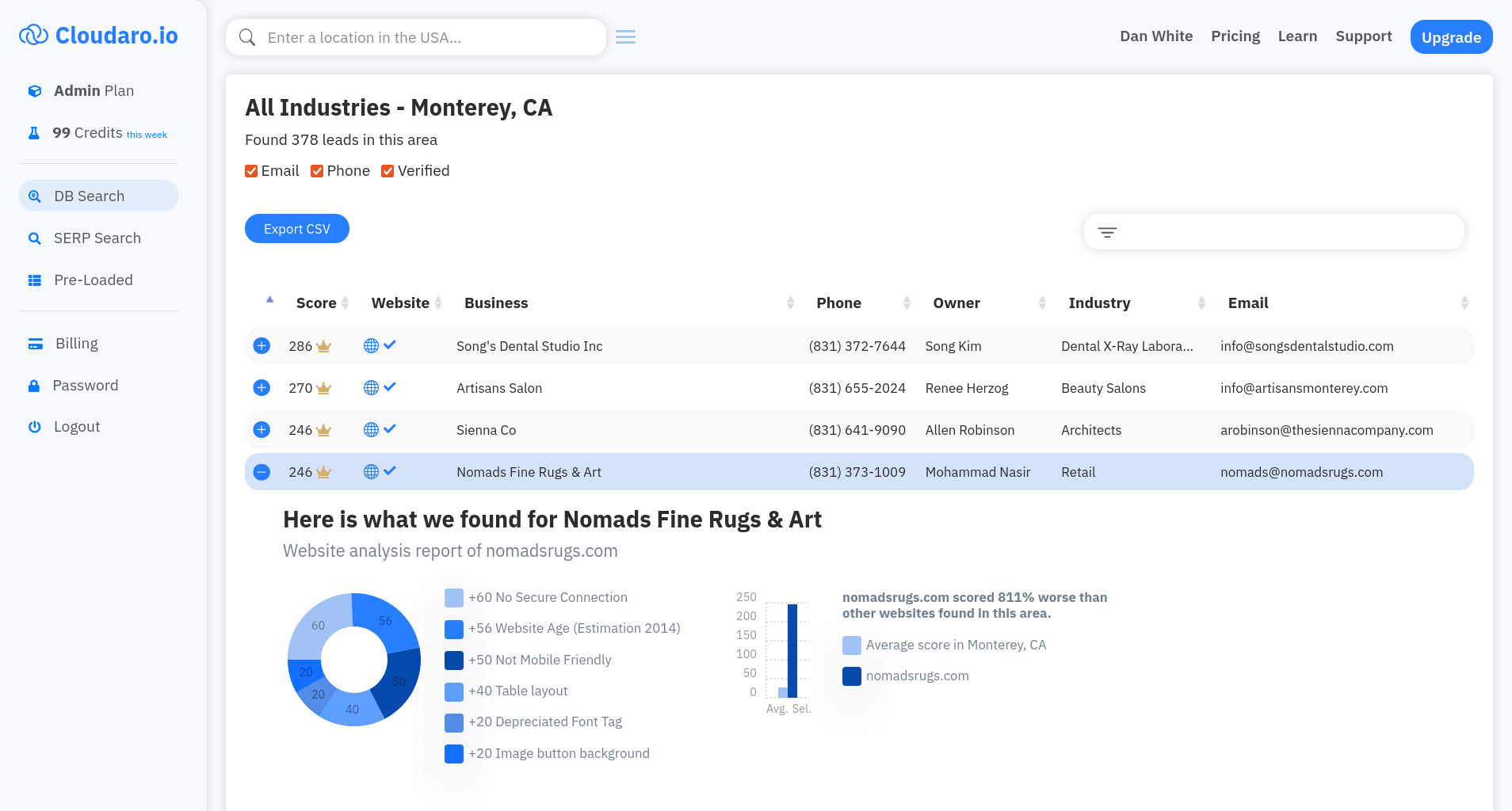 How Lead Generation Tools Help Web Designers
Lead generation tools are programs that automatically gather lists of prospects for your business. You can contact the businesses on the generated lists in order to find new clients. Alternatively you are able to find leads manually but this process takes several hours. It is a lot better to use a lead generation tool such as Cloudaro. Cloudaro automatically finds the highest quality leads for you.
Imagine having a superpower where you can instantly figure out all the businesses that would pay top dollar for your services. Imagine how much time you could save and the revenue you could generate. Now imagine in order to have this superpower you need to pay an amount equivalent to the cost takeout. Would you buy it?
Cloudaro is this superpower. Cloudaro finds businesses on the internet that are in need of web design. Cloudaro also gathers their contact information so you can easily reach out and close more deals. The leads Cloudaro finds are actionable and are easy to convert. Plans for Cloudaro start at $10/mo for 3,200 fresh leads per week.
Automated Cold Email Outreach With Cloudaro And Gmass
You can use the cloudaro database search for your email campaigns in order to tailor outreach and target optimal prospects. Below is an example of an email automatically formatted by Gmass with data from Cloudaro. It took me a total of 1 minute and 44 seconds to create and run the email campaign shown below. Gmass is a freemium software with available paid plans.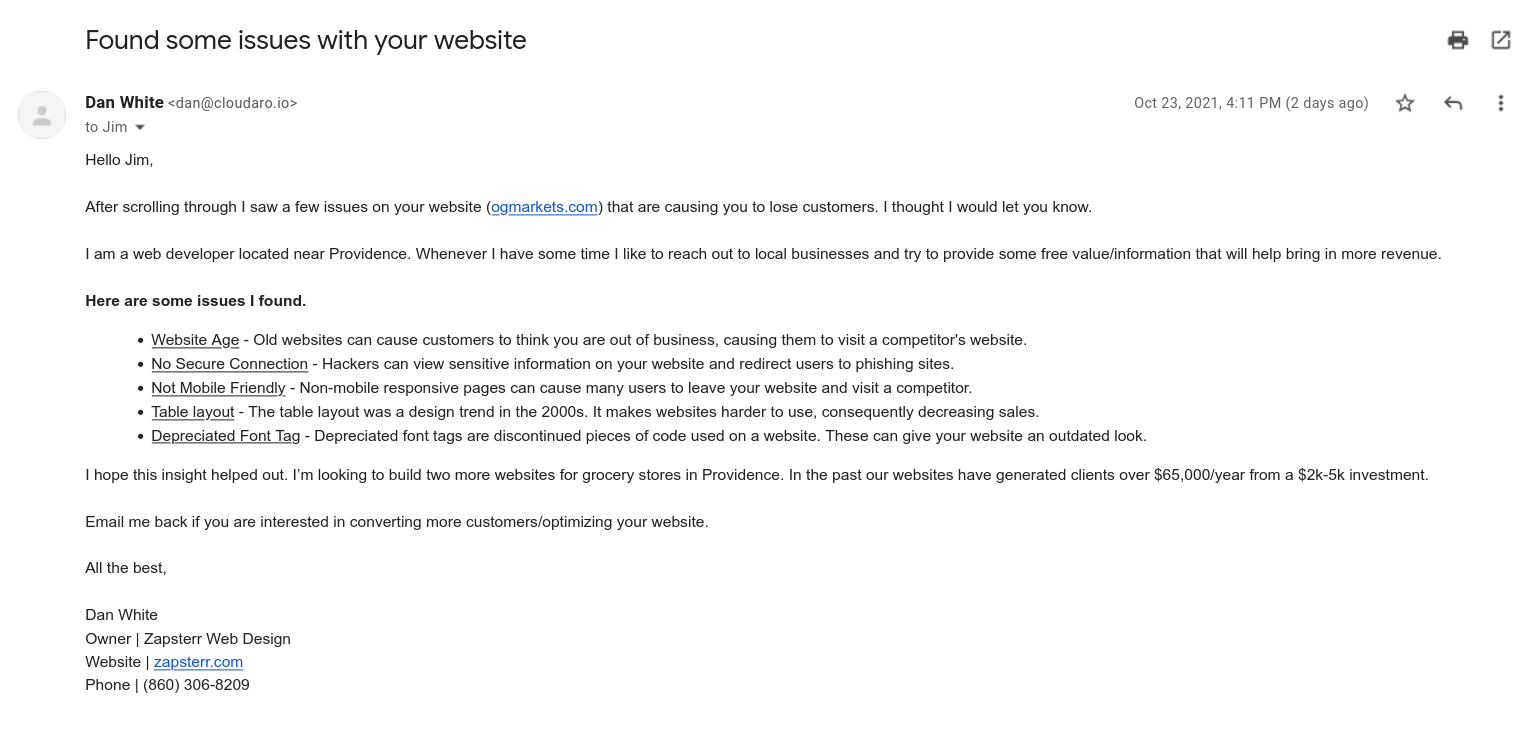 Running Your First Hyper-Personalized Email Campaign
Running your first campaign is very simple and effective. Here are the steps to initiate your first email campaign with Coudaro. One thing to keep in mind is Gmass allows 50 emails per day on the free account. Also consider that your email needs to be warmed up in order to send massive amounts of email volume per day. With that being said, let's get started!
Login Cloudaro
Navigate to dashboard home
Click on DB Search
Type in location/keyword
Check Email box to filter out leads without email
Once the search is complete (Takes a few min) export results as CSV
Import results in Google Sheets
Remove leads with a score of 0
Open Gmail (make sure GMass is installed)
Connect spreadsheet (button is in top right of the compose box)
Paste code snippet below into email body
Customize email signature to match your own
Send!
Here is a template you can use in gmass with the database search. It will automatically tailor the email with data exported from the CSV file. With a little customization this can take you pretty far.
Faster Cold Calling With Cloudaro
You can save time and increase cold calling conversion rates by utilizing Cloudaro. Cloudaro provides phone numbers, owner names, website audits, etc. to make the cold calling process easier. There is no need to dig around to find old websites and contact information anymore.
There are two ways you can search with cloudaro for cold calling - SERP Search and DB Search. DB search uses our contact database of over 30m+ US leads. The SERP search uses a google search query and analyzes the websites that appears under that particular query.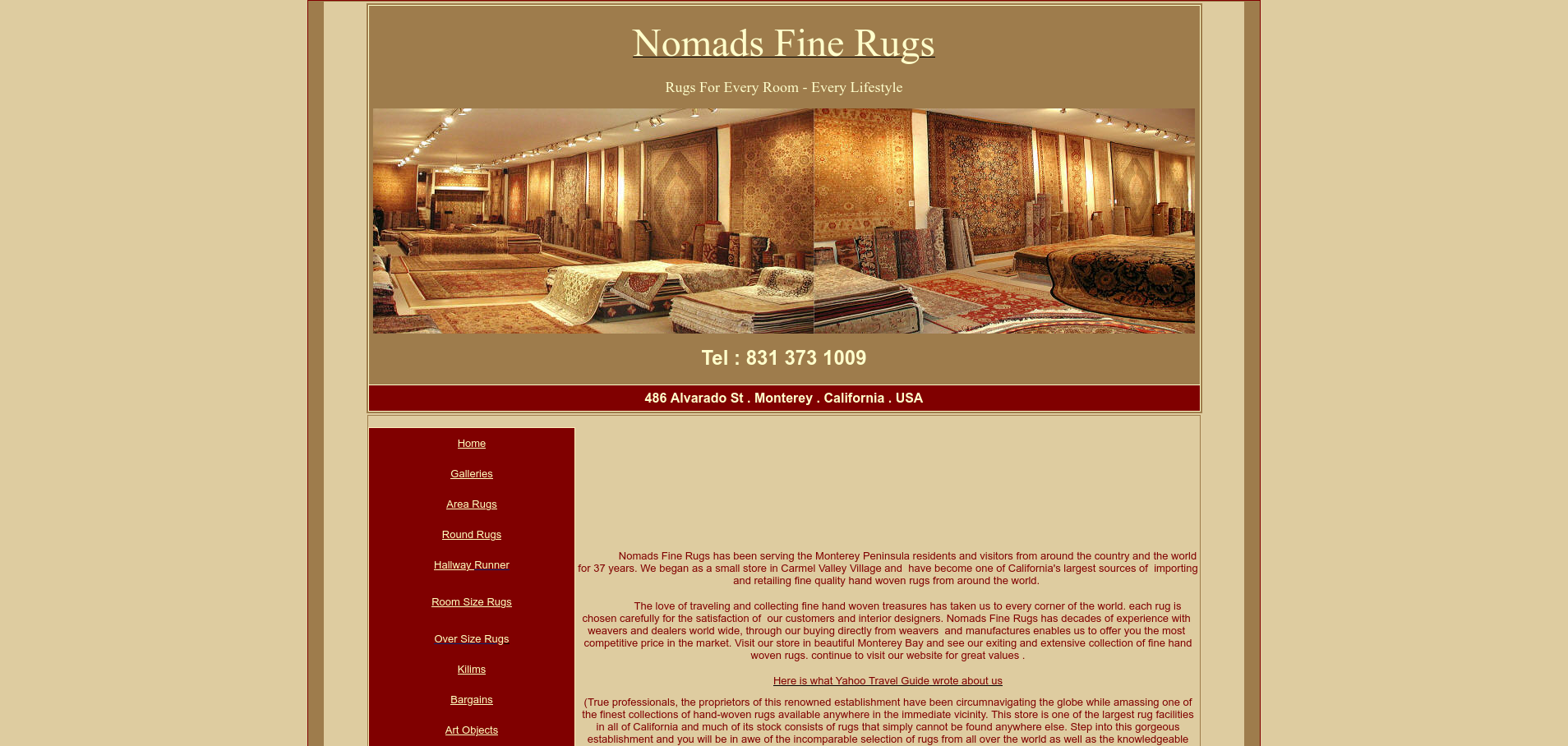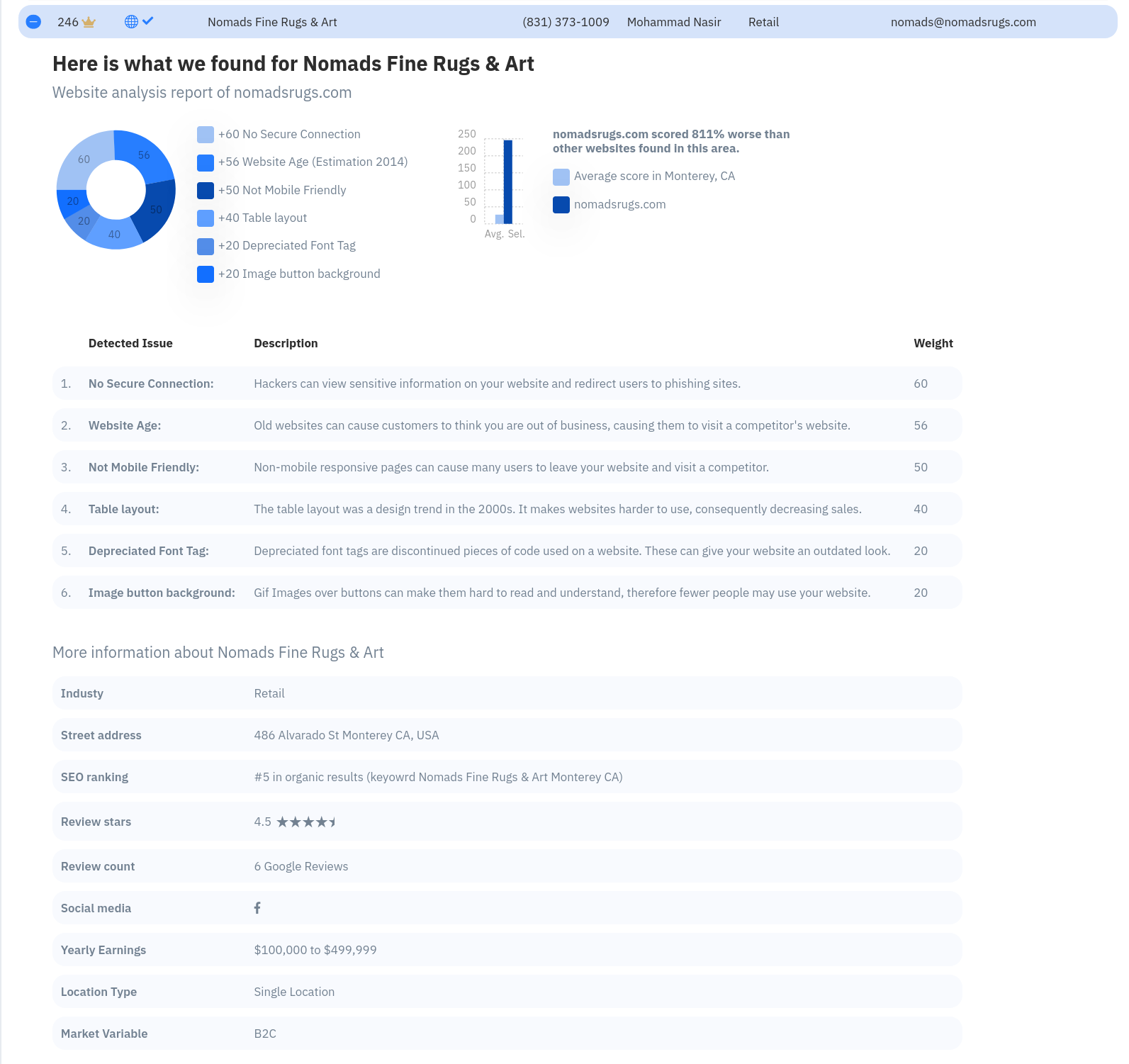 Cold Calling Using The Database Search
I will first explain how to use the DB search for cold calling. This method of gathering data is very simple and effective.
Lets get started with cold calling with the Database Search. If you want to find leads outside the USA you can the SERP tool.
Login Cloudaro
Navigate to dashboard home
Click on DB Search
Type in location/keyword
Once the search is done check the 'Phone' checkbox to filter out leads without a phone number
All done!
Cold Calling Using The SERP Search
The SERP search operates very similarly to the Database Search but instead we must use a google search query.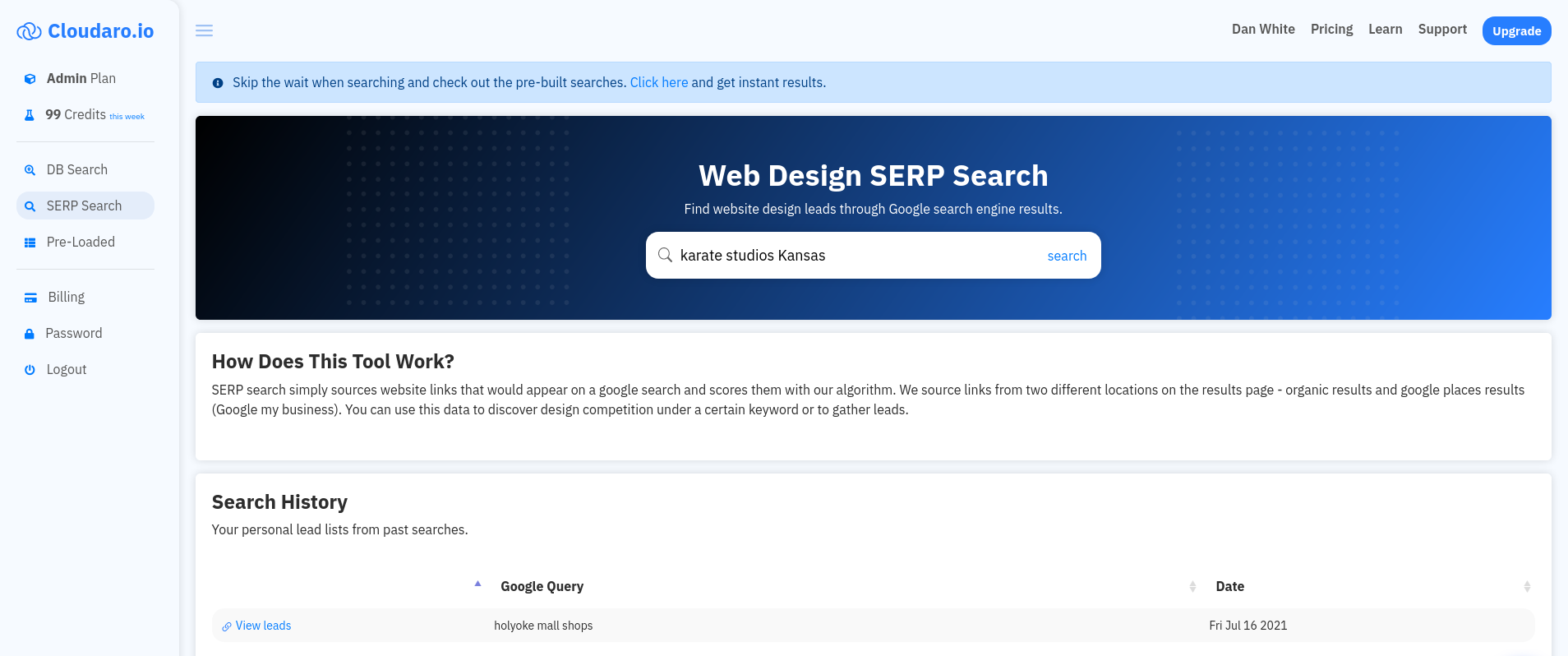 Here is how to get started with the SERP Search.
Login Cloudaro
Navigate to dashboard home
Click on SERP Search
Type in google search query such as "Karate studios in Kansas" (The search query could be anything)
Once the search is done check the 'Phone' checkbox to filter out leads without a phone number
All done!
/* I hope this short tutorial was helpful, let me know if you have any questions just shoot us an email - Dan White */